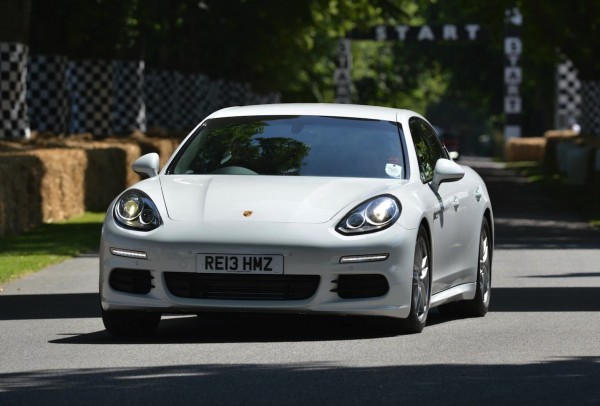 Porsche has used the Goodwood Festival of Speed for the UK public launch of its Panamera model.
The second-generation of the four-door GT debuted on Thursday at Goodwood's 'Moving Motor Show' day, and will be on display for the duration of the event, which runs until Sunday.
One major addition to the lineup is a plug-in hybrid version of the car. Power is provided by a combination of 70kW electric drive, a 9.4kWh lithium-ion battery and  a supercharged 3-litre engine. This setup provides total power of 416bhp.
In electric-only mode, the performance figures are still impressive: 62mph is reached from a standstill in 5.5 seconds, while the car will go on to a top speed of 84mph without the use of the engine. Fuel economy for the Panamera Hybrid is figured at 91mpg.
Those who are interested in raw power will prefer the sound of the Turbo model. This 520bhp, 700Nm range-topper is powered by Porsche's 4.8-litre twin-turbo and has a top speed of 189mph. Average fuel economy of 27.7mpg is surprisingly impressive for such a performance-oriented (the 0-62mph time is figured at 4.1 seconds) model.
The Panamera range starts from £62,922 OTR for the diesel model, with the plug-in hybrid starting at £88,967 OTR. The Turbo is priced from £107,903 OTR.