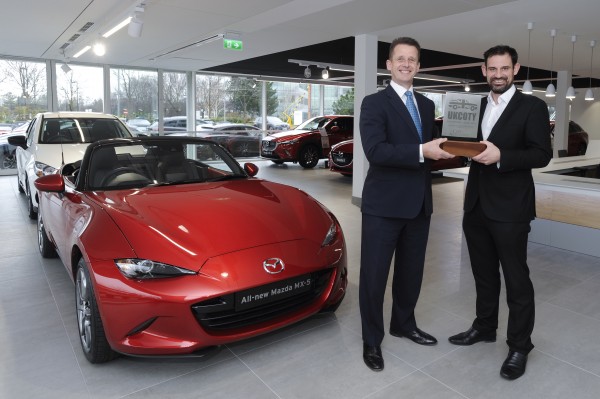 The Mazda MX-5 has emerged as the overall winner at the UK Car of the Year Awards 2016, which are supported by Cox Automotive – whose UK brands include Manheim and Motors.co.uk. Having triumphed in the Best Open Top Car of the Year category, the latest generation of the world's best-selling sports car beat off strong competition in the final round of voting to claim overall victory. The Japanese company achieved triple honours at the awards, with the Supermini of the Year title for the Mazda2 joining the MX-5's twin accolades.
Launched in 2014, the UK Car of the Year Awards are judged by 27 of Britain's most-read motoring journalists. Each judge uses their expertise to pick out the top performer in 12 vehicle categories, before deciding the overall winner from their favourites in each class. New for 2016 was a media driving day featuring all category winners, hosted by Cox Automotive at its Manheim Bruntingthorpe auction centre in January.
"With the latest MX-5, Mazda has created the perfect roadster. A lightweight engaging, simplistic and even practical vehicle, which is an absolute pleasure to drive," said John Challen, director of the UK Car of the Year Awards. Fellow director, Alisdair Suttie, commented: "The fourth generation is true to the original spirit of the MX-5: light, nimble and enormous fun."
Commenting on Mazda's success in the UK Car of the Year Awards, Jeremy Thomson, Mazda Motors UK managing director (pictured above, left) said: "I'm delighted that the all-new Mazda MX-5 has added another prestigious award to its growing tally of accolades. The MX-5 embodies all that is great about our products. Its fun to drive character has earned it a place in the hearts of driving enthusiasts the world over."
The MX-5's huge appeal was underlined by many members of the UK Car of the Year Award judging panel. CAR's Tim Pollard commented: "No other car launched in 2015 advanced the class standards so comprehensively: the Mk4 Mazda captures the essence of MX-5ness brilliantly. It's a fabulously polished – and democratic – sports car". BusinessCar's Paul Barker added that the MX-5 is: "Still peerless in its ability to provide motoring joy on a budget."
The Express' Nat Barnes declared the MX-5: "The best car I drove in 2015. The 1.5-litre is perfect in almost every way," while judge Anthony ffrench-Constant exclaimed: "Delicious to gaze upon, beautifully engineered, eminently affordable, and positive proof that motoring pleasure need not be predicated on pure power alone."
In a tightly-fought contest for Overall UK Car of the Year 2016 – the contenders ranging from the Smart Forfour to the McLaren 570S – the Mazda MX-5 triumphed over the Volvo XC90, with the Skoda Superb Estate taking third place.
Full list of UK Car of the Year Awards 2016 winners
Best City Car – Smart Forfour
Best Supermini – Mazda2
Best Small Hatch – Vauxhall Astra
Best Family Car – Skoda Superb
Best Executive Car – Jaguar XE
Best Luxury Car – BMW 7 Series
Best Estate Car – Skoda Superb Estate
Best MPV – Ford S-Max
Best SUV – Volvo XC90
Best Coupe – Ford Mustang
Best Open Top Car – Mazda MX-5
Best Performance Car – McLaren 570S