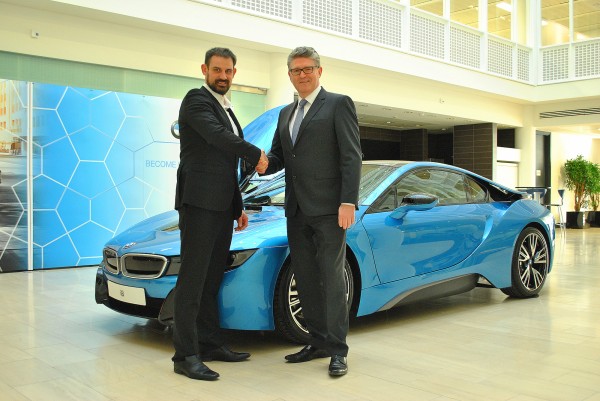 The BMW i8 plug-in hybrid sports car has been crowned UK Car of the Year for 2015. Having fought off stiff competition to the title of Performance Car of the Year, the four-seat technological tour de force also won the overall vote.
Launched in 2014, the UK Car of the Year Awards are judged by 27 of Britain's most-read motoring journalists. Each judge uses their expertise to pick out the top performer in 12 vehicle categories, before deciding the overall winner from their favourites in each class.
The win for the i8 – powered by combination of a 1.5-litre, three-cylinder engine and 96kW electric motor – means back-to-back wins for the BMW 'i' brand at the UK Car of the Year Awards. Twelve months ago, the German manufacturer was picking up the inaugural title for its i3 small car.
"The automotive industry has seen many hybrid models in recent years, but nothing quite like the i8," said John Challen, Managing Director of UK Car of the Year Awards, and Editor of ukcoty.co.uk. "The term 'game-changer' is sometimes overused when talking about new cars, but in the case of the i8, it is totally justified. The latest 'i' model completely redefines the performance car segment, and is helped by a hybrid powertrain that is really quite special."
Graeme Grieve, BMW UK CEO commented: "The BMW i8 is the culmination of many years of investment, hard work and commitment to create the world's most progressive sports car. With our first two BMW i vehicles – the i3 and i8 – being named consecutive UK Car of the Year winners, our technology strategy is being recognised as truly game-changing for the car industry."
Several of the UK Car of the Year judges were quick to praise the triumphant car.  Paul Hudson from The Telegraph said it was "a fantastic demonstration that an electrically-powered future need not be dull", while Graeme Lambert from Parkers added: "The i8 represents the future. It also shows us that being excited and being eco-conscious behind the wheel aren't mutually exclusive."
"The BMW i8 basically reinvents the performance car. Stunning to look at, and amazing to drive, there's nothing else like it out there," was HonestJohn.co.uk's David Ross' verdict, while Top Gear's Tom Ford described the i8 as "hybrid, clever, exciting – the i8 manages to be a consummate driving experience."
In the overall Car of the Year class, which included vehicles as disparate as the Volkswagen Passat Estate and the Rolls-Royce Ghost, 14 of the 27 judges chose the BMW as their winner. The nearest challenger was the Citroën C4 Cactus, followed by the Renault Twingo in third place.
Full list of UK Car of the Year Awards 2015 winners
Best City Car – Renault Twingo
Best Supermini – Skoda Fabia
Best Small Hatch – Citroën C4 Cactus
Best Family Car – Ford Mondeo
Best Executive Car – Mercedes-Benz C-Class
Best Luxury Car – Rolls-Royce Ghost
Best Estate Car – Volkswagen Passat
Best MPV – BMW 2 Series Active Tourer
Best SUV – Porsche Macan
Best Coupé – Jaguar F-TYPE
Best Open Top Car – Porsche Boxster GTS
Best Performance Car – BMW i8